I've been capturing weddings, family lifestyle photography and casual portraits for more than a couple decades now working primarily in the Sacramento, Lake Tahoe, Napa, and San Francisco Bay areas, as well as all along the coastlines around San Diego and Coronado and everywhere in between. I'm inspired by outdoor adventures, travel, playful people, live music and amazing light and take advantage of any opportunity to capture raw emotion and natural beauty away from home. Covering all of life's special events, from birth to graduation, engagement to wedding, 1st anniversary to 50th, I love connecting with my clients and sharing something memorable that will last a lifetime.
Contact Lisa
Featured Blog Posts
Erin + Cameron, Flower Farm Inn
Loomis, CA
Erin and Cameron, high school sweethearts, "take the cake" on being such gracious couple to work with. Erin first said to me, "I am a sucker for good lighting". HA- I am a sucker for couple who loves good light.
Sierra + Cory, Engagement
Hope Valley, CA
Sessions like this make my heart sing.
Sierra and Cory, a couple with warm personalities and very much in love, scooped up me and my camera, in their Tacoma, hoping for aspens still in bloom but ready for any old up country adventure. Free creatively, washes of sunshine color, open to discovery and landscape for miles.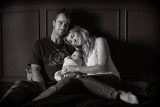 Slowing Down with Miss Elowyn
Placerville, CA
I admit it. I don't like writing. I could photograph and edit all day long, unfolding the story of a moment in time with my camera. When it comes to writing as expression, I generally feel inadequate.